Bisley Imperial Meeting News 2021
After last year's much reduced Imperial Meeting with Match Rifle events at the end of August and Target Rifle starting on 11th September, it was anticipated that this year would return to a more normal programme. The dates were set for MR to run from July 9th to 14th with the TR following on from 16th to 24th, and other disciplines being arranged in the normal order around these dates. The Schools Meeting, held between MR and TR dates, was cancelled save for the Schools' Veterans matches; so some semblance of normality. Entries from overseas competitors were not possible because of travel and accommodation restrictions.
Nevertheless the level of entries proved to be higher than expected and caused the NRA to close entries earlier than anticipated to ensure that all competitors could be safely serviced on the ranges. In MR there were 103 entries for the Hopton (last year 75) and for TR for the Queen's Prize 613 (318 in 2020) and 588 for the Grand Aggregate (previously 285).
Match Rifle results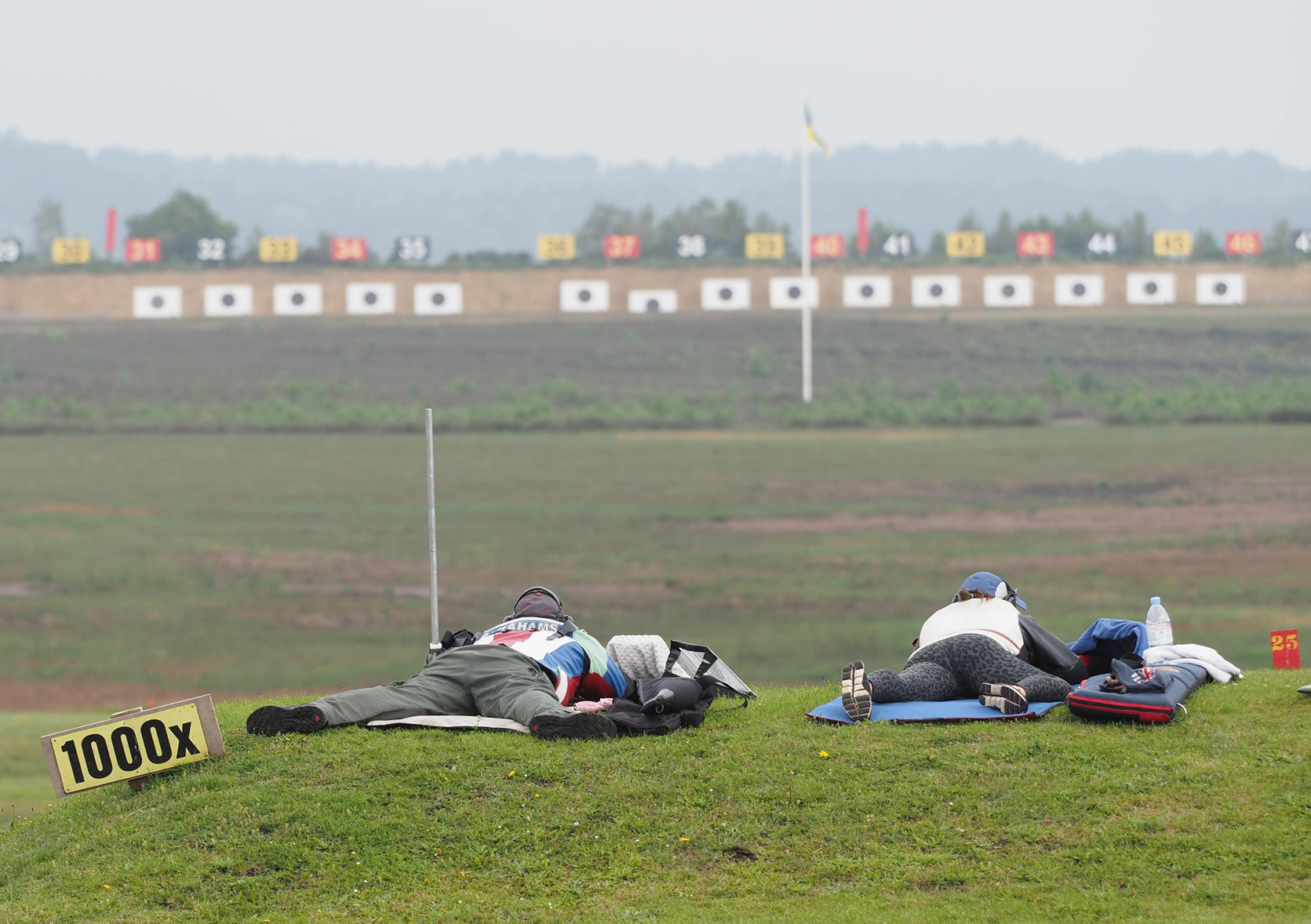 The weather during the 6 days of MR shooting was generally good; but photographs of the action suggest a humid haze persisted. The wind was gently changing and allowed for lots of possibles in the first three days. On the afternoon of Monday 12th thunderstorms and rain were threatening for the F.W. Jones Match. This had been won for the past 6 years by the Hopton Supper Club team, however they were beaten into third place by the International MR Ladies Team and the English VIII team. The match was shot quickly as everyone tried to avoid the approaching downpour. It was completed with only one shooter getting wet. Conditions for the last two days were more difficult with a fishtailing wind for the Albert and Elcho Shield, shot through 1000, 1100 and 1200 yards with no sighters and 15 to count.
Four Nottinghamshire shooters competed in the Match Rifle programme. There are seven individual competitions included in the Hopton Grand Aggregate and other aggregates made up of various combinations of scores.
The leading scorer was Mrs FK Day who was in the top ten places in the Edge and Whithead M.R. competitions. In the Edge she made a double possible, 200.28v (ex 200.40v), for second place, one V-bull behind the winner. In the Hopton Aggregate Mrs Day came 11th with a total of 1000.113v (ex 1025.205v) winning an NRA Bronze Medal.
Mrs Day was selected to shoot for England in the Elcho Shield. Other Nottinghamshire shooters were involved as Adjutant (Mr R Whitby) and as Coach (Mr S J Whitby). The team were victorious, beating Scotland, Ireland and Wales. Mrs Day was also selected for the Five Nations Match which was shot concurrently with the Edge and was also won by England.
Full details of the individual, aggregate and team scores.
Target Rifle Results
The TR programme started on Friday 16th July in reasonable temperatures and a moderate wind with quick changes. The thermometer then started rising and by Sunday was nudging 30C with a lazy wind happily drifting left and right keeping everyone on the alert. Thereafter the days started with cooler calm conditions rapidly changing to hot and sweaty, especially when in a shooting jacket complete with hat, ear defenders and glove. Slightly cooler but trickier wind conditions returned by the end of the week for the team matches and Queen's Final.
Daily reports and photographs are on the National Rifle Association Facebook page
Eleven Nottinghamshire shooters competed in the Grand Aggregate, St George's and Queen's shoots. Highlights are listed here with links to our detailed reports below.
In the Grand Aggregate, Mr RSF Shouler was 11th on 714.100v and Miss AJ Clarke 48th on 706.81v, both showing consistently good scoring.
In the Wimbledon, Mr Shouler scored 75.14v to tie for top place. The five shot tie was level at 25.4v and the shot-for-shot went one further with a 5 against a V to give him second place.
Other leading places (top 20) achieved:–
Miss AJ Clarke Alexandra 11th 50.9v and Lovell 19th 49.7v
Mrs LE Haley Amazons 9th 103.14v
Mr RSF Shouler Conan Doyle 13th 50.8v and Gurkha Appeal 10th 75.11v
Mr TJ Bullock The Times 7th 50.8v
There were ten Notts. entries for the St. George's Vase and four qualified for stage II: Mr RSF Shouler, Miss AJ CLarke, Mr JA Bullock and Dr ITR Jobling. Shouler and Clarke then went through to stage III finishing with Shouler on 148.23v for 7th place and Clarke on 148.17v for 15th.
Of the nine entries for H.M. the Queen's Prize, six made it to stage II: Mr RSF Shouler, Mr JT Kennedy, Mrs LE Haley, Mr JRJ Kennedy, Dr ITR Jobling and Miss AJ Clarke. The stage I cut-off was at 102.10v. In stage II, Shouler, in 12th place with 148.17v, Clarke 145.16v and Haley 145.12v succeeded in reaching the final.
Shouler then shot an unmatched double possible securing the Queen's Prize with a total of 298.35v (ex 300.60v). Mr DC Luckman was second and Ms RL Furniss, who had the only 150 in stage II, was third. Clarke came 28th and Haley 84th.

It has been 31 years since we had a Nottinghamshire Queen's Prize winner and our sincere congratulations go to Richard Shouler for his achievement following in the footsteps of Mr JPS Bloomfield (1990 & 1985), Mr RP Rosling (1972) and Dr D Woods (1933).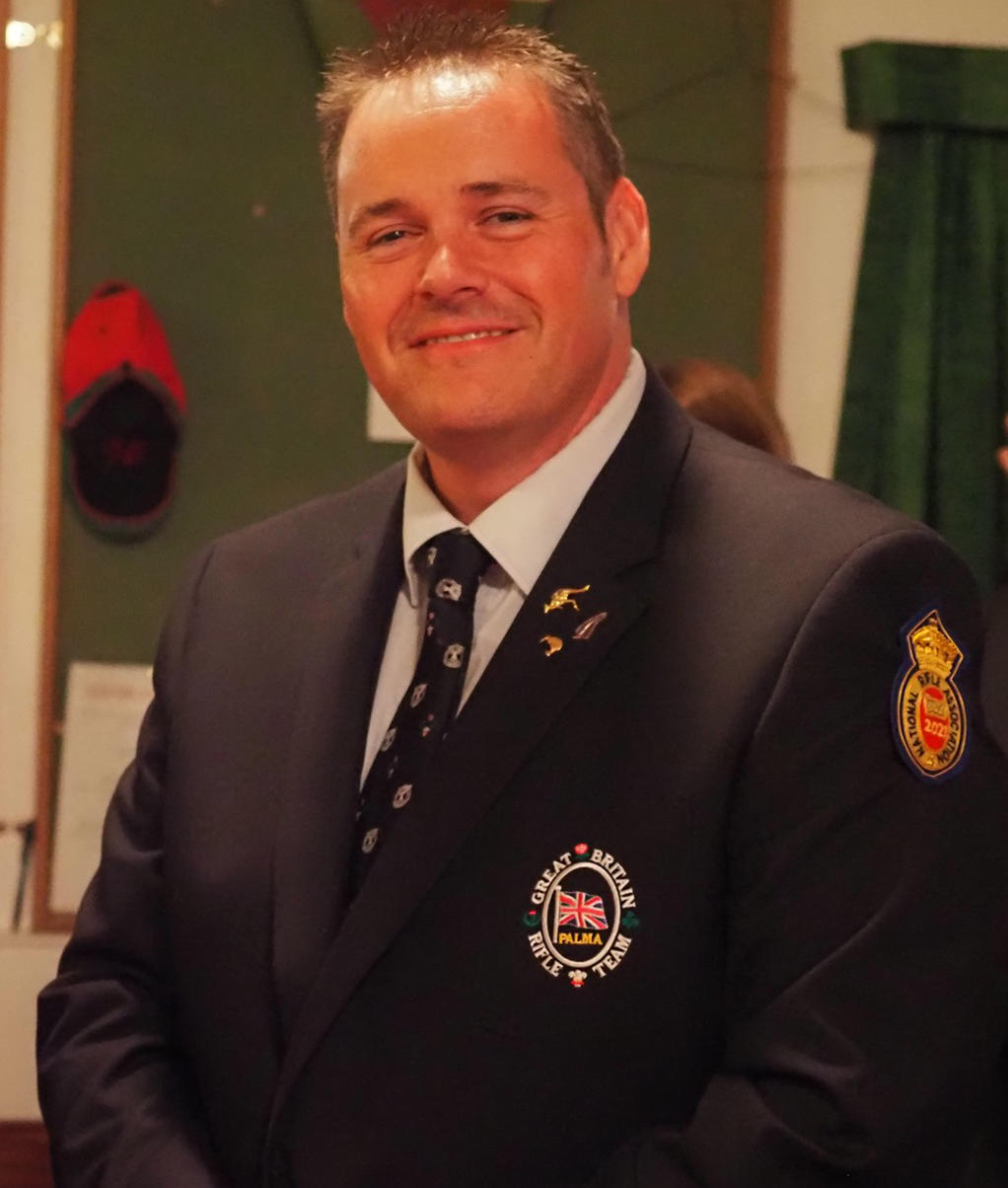 Nottinghamshire TR shooters' individual scores.
Nottinghamshire TR shooters' scores in aggregates.
A number of Team Shoots also took place; but without any overseas competitors. Nottinghamshire entered the County Championship Long Range and Short Range Senior competitions without any great success. The County Championship was dominated by Surrey, Kent and Norfolk.
Nottinghamshire Team Scores in Long & Short competitions.
The County Team qualified for the final of the English XX Club King George V Challenge Cup by winning the Midlands Heat at the Inter-Counties Match held at Bisley on 12th & 13th June. In the final held during the Imperial Meeting, Nottinghamshire produced a commendable score of 1168.144v to achieve 5th place after Surrey, Norfolk, Berkshire and Northumberland & Durham.
Nottinghamshire King George V Team scores.
Mrs LE Haley and her husband entered the Families and came 2nd with Messrs JRJ and JT Kennedy coming 4th.
In the Fulton Pairs Class X, Mr RSF Shouler & Mr CJ Watson made 3rd place with the Haley's coming 7th. In the Pairs Class O, the Kennedy's came 3rd.
Mr RSF Shouler and Miss AJ Clarke were invited to shoot for England in The National, which was won by Wales with a total of 2067.249v, leaving England second on 2065.288v. Scotland and Ireland were 3rd and 4th.
Nottinghamshire TR shooters' scores in team matches.
The full listings on the National Rifle Association website.