The Notts RA BP Open Championship Meeting 2017
Friday, June the 16th found black powder shooters from around the country converging on the small picturesque village of Thorpe in the Derbyshire Peak district for the annual Nott's Rifle Association black powder jamboree. The meeting has three separate competitions over the course of the long weekend catering for a variety of different muzzle loading rifles and at distances of 400 yards down to 200.
Friday's Patched Ball Competition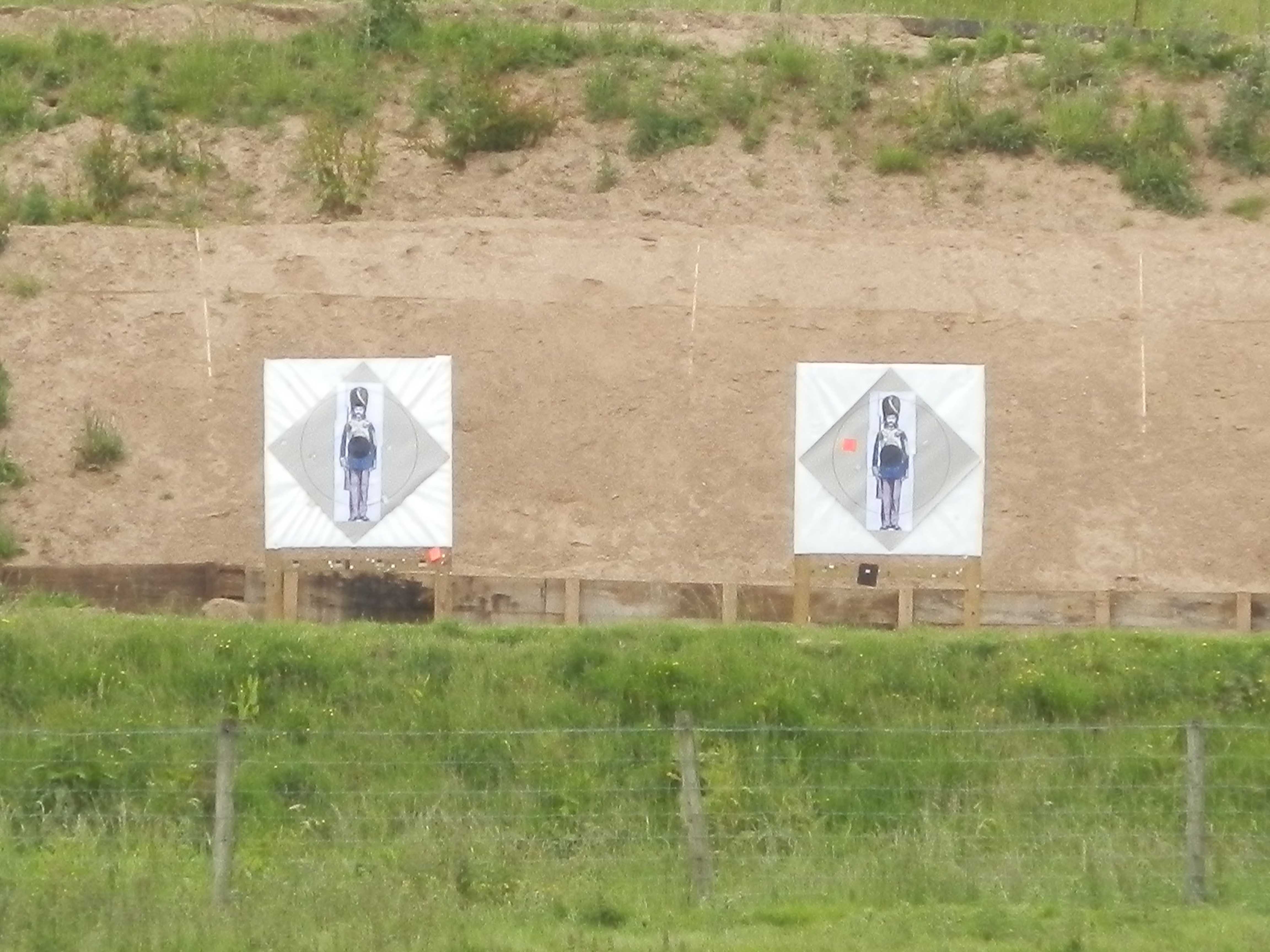 Our first competition took place as usual at the 200 yard firing point on the Friday afternoon using patched ball rifles shot off hand and also from a tripod rest, ten shots fired from each position at a representation of a Russian Grenadier of the Crimean war period, secured to the standard target board. Precisely why we use this image is now lost in the mists of time; but it does offer an excellent vertical aiming mark. Superimposed in the middle is a 6" black aiming mark and surrounding this is a 30" circle. The target is scored as a Bull for a hit in the 6" circle, a Hit for a strike within the 30" circle and for those striking outside as a Miss on Target. A target of the usual round bull type was provided on the third target for those who did not wish to take part in the patched ball event.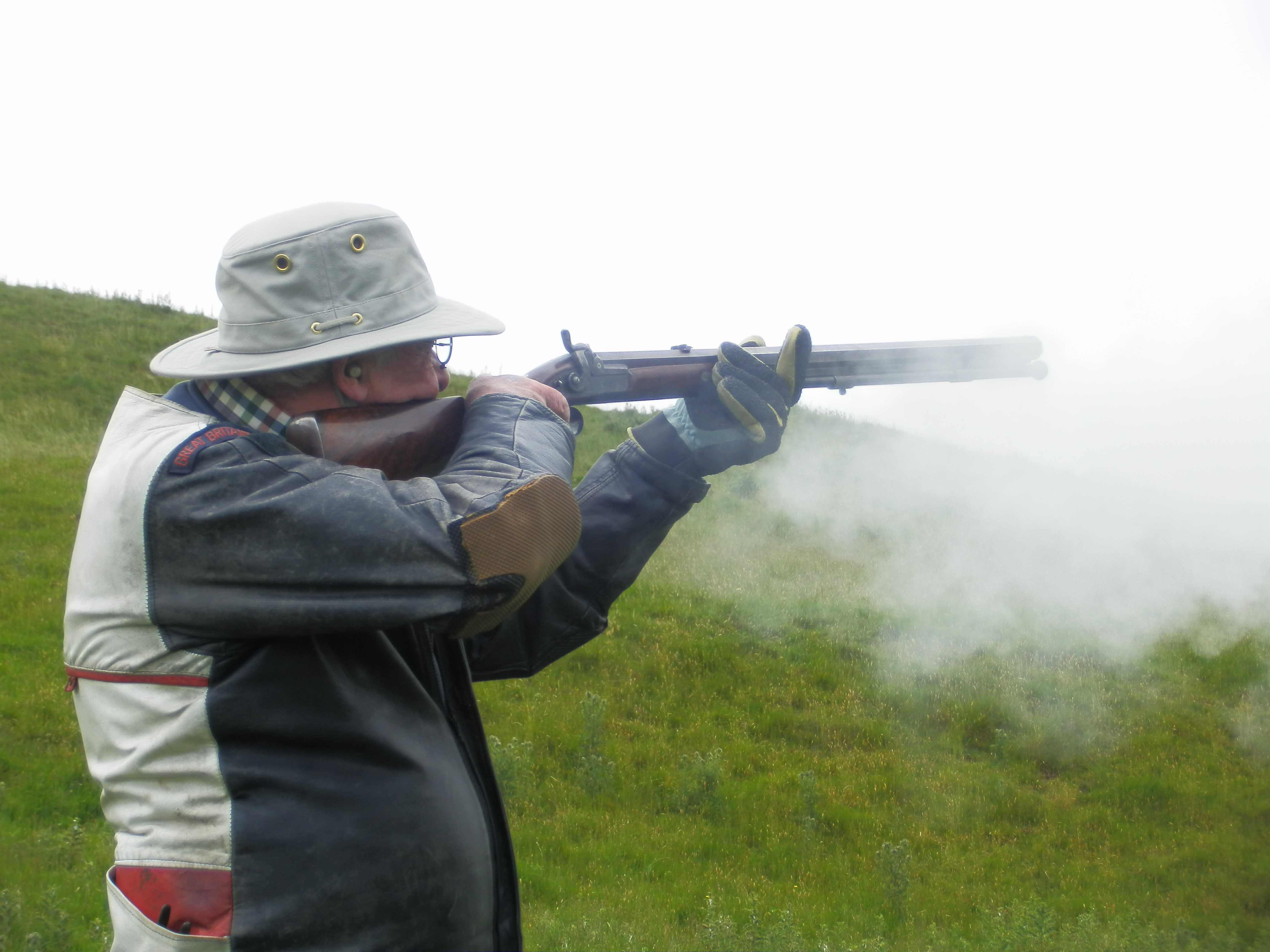 A wide variety of rifles are usually in evidence for this competition from reproduction and original flintlocks, original percussion park rifles and even the .577" Enfield Pattern '53, a rifle never designed to fire a patched ball. The fact that the Enfield is so accurate when used in this way opens up the competition to those who do not have the theoretically "correct" rifle and affords them an opportunity to compete in what is an unusual and challenging event.
Patched Ball Scores

200yd
Bulls
Hits
Misses
M Mott
3
5
4
J Womble
2
0
7
F Page
0
8
7
L Jackson
0
7
8
R Scott
0
3
6
M Alexandre
0
2
8
D Craven
0
2
4
D Chambers
0
2
3
A Russell
0
0
2
The weather was on the whole rather overcast but dry with a fair breeze travelling down range. Mike Mott,Len Jackson, Mike Alexandre and Denis Chambers were on the first detail. All were using original rifles of similar calibre (around 16 bore) and the results illustrate the need to dedicate time to work out the ball, patch, powder combination required at two hundred yards for these venerable old rifles which tend not to be used at more than one hundred these days. Mike Hunting and David Sillitoe availed themselves of the opportunity to practice with the Enfield on the round bull target.
The second detail consisted of Jerry Womble, Frank Page, Robin Scott, David Craven and Andrew Russell. All except Russell were using three-band Enfields. Russell declined to trouble the soldier using a .54 reproduction flintlock rifle.
While there were nine entries for the competition, which is good, there could have been several others taking part and hopefully they will do so next year.
Saturday's Free Rifle Competition
Saturday is our Free Rifle competition and attracts a strong entry. The weather on this day was almost cloudless in the morning and very hot and with three convertible sighters and ten to count at three ranges the heat would cause us some problems.
The first detail set off at 400 yards with Ken Watson scoring an extremely impressive 44.4, no one else would come close to his score. A Russell retired with rifle trouble.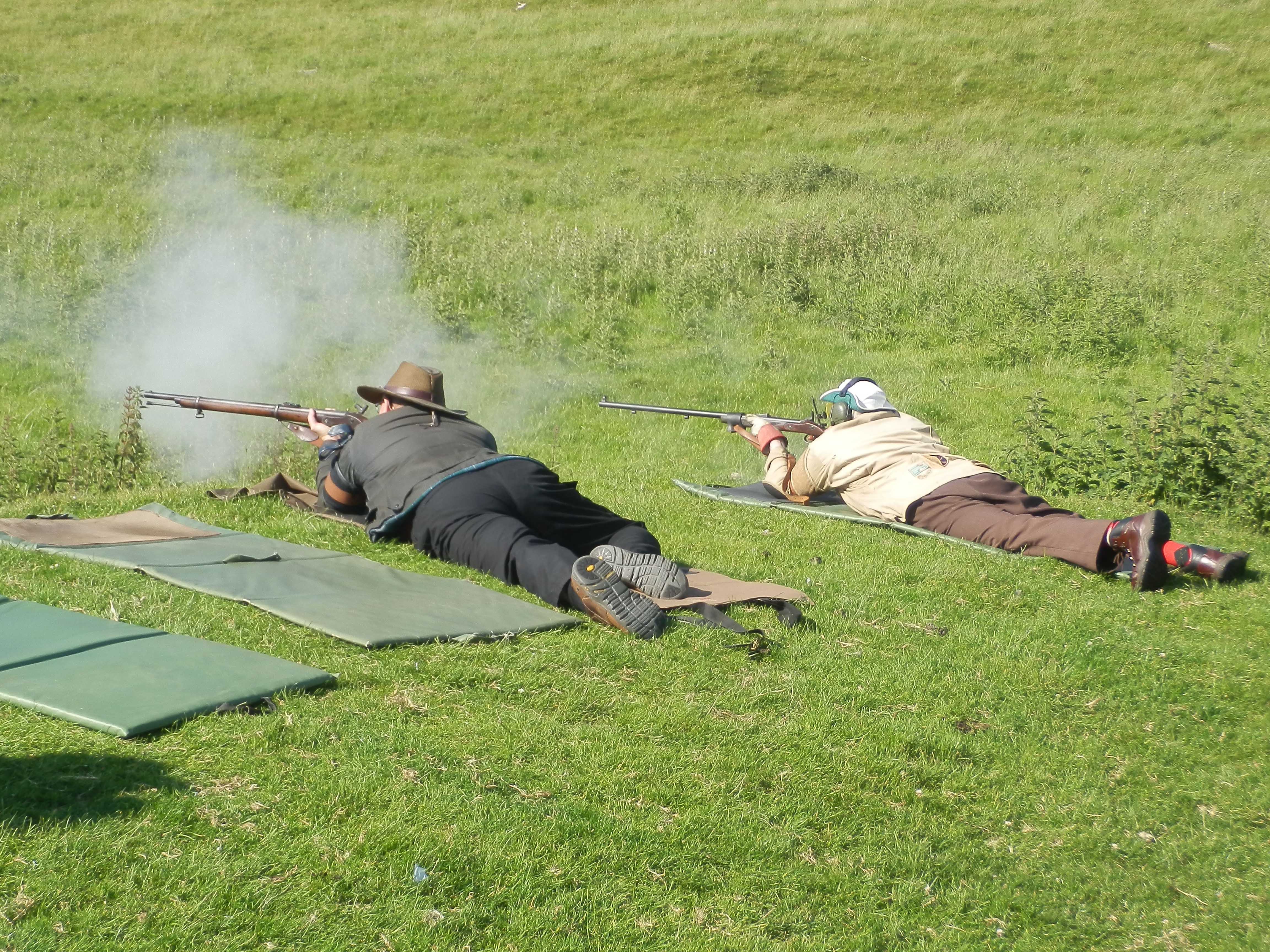 Moving forward to the 300 yards firing point it was becoming apparent that the sun beating down was having a serious effect on the shooting party and Ann Vause, our medical officer, decided urgent action was required. A request that the butts party should bring out some extra water revealed the unpleasant fact we did not really have sufficient for the unexpectedly hot conditions and it seemed that the afternoon was to be even hotter. Thus an urgent trip to Ashbourne was organised to pick up further supplies.
The results for the first detail were obviously effected by the challenging conditions for some as both Ken Watson and David Craven decided to withdraw half way through their string at 300 yards, the remaining shooters finishing 200 yards without further incident.
Free Rifle Scores

400yd
300yd
200yd
Total
D Minshall
38.0
38.0
37.2
113.2
F Page
29.1
29.1
37.2
95.4
J Womble
24.0
35.0
34.2
93.2
M Alexandre
35.2
21.0
35.1
91.3
M Tebbs
27.0
31.0
27.0
85.0
W Parnham
28.0
26.0
30.2
84.2
L Jackson
27.0
26.1
31.0
84.1
R Scott
26.0
27.0
26.1
79.1
K Watson
44.4
R
44.4
D Craven
33.0
R
33.0
A Russell
R
After lunch the second detail took up their positions at the 400 yard firing point and fortunately by this time our fears of an even hotter afternoon were allayed by the appearance overhead of clouds meaning they had a slightly more comfortable shoot. However the gods that govern these things decreed we should be afflicted with livestock in the form of cows and sheep. The cows were probably looking for Ken Watson as they seem to have a great affection for him while I think the sheep were just being sheep. Frank Page proved to be a natural sheep worrier and soon had the range clear. All three distances were then completed without further ado.
It is a shame about the retirees and that several people shot their Enfield rifles without entering their score especially as both Robin Scott and Bill Parnham were using their .577 Enfield's with effect and it is interesting to see the difference in scores (or otherwise) between the match rifle and ordinary military rifle when shot side by side.
Sunday's Minié and Volunteer Cup Competitions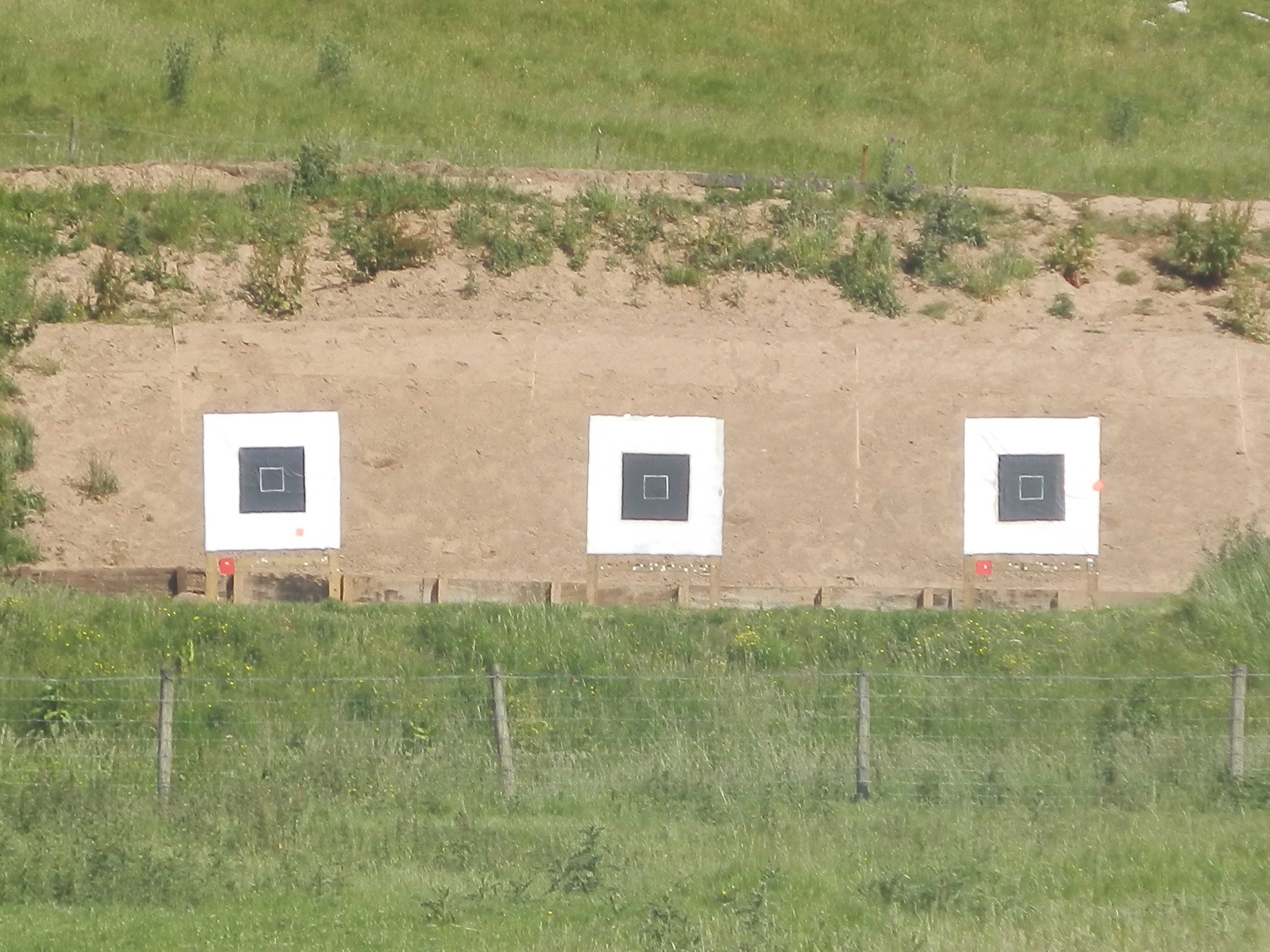 Sunday morning sees the final competition of the weekend, the Minié, an event for Enfield .577 standard military pattern rifles shot over 200, 300 and 400 yards at an 1861 type target having square scoring zones rather than the familiar circular rings. There are but three scoring areas at 200 and 300 yards: a centre counting three points, the rest of the black counting two and the surrounding white one point. At 400 yards the entire black aiming mark counts for two points and the white one point. One warmer is allowed at 200 yards only with one non-convertible sighting shot (at all three distances) followed by five scoring shots. There are no slings allowed. This makes for a challenging competition replicating the course of fire of the original volunteers. For the highest score from a competitor who is a member of a club affiliated to the Nottinghamshire Rifle Association there is a splendid silver cup, the Volunteer Cup. Bill Parnham has been the proud custodian for the past six years. Would he continue in possession for a further year?
The first detail set off at a cracking pace at 200 yards with three scores of 10 and three of 9. Moving back to 300 yards there was an 11, a 9 and two 8's keeping the scoring very close. At 400 yards the black looks very small but can still attract its fair share of hits.
There had been some seriously good Enfield shooters on the first detail, there were yet more to come in the second; but first we had an important duty to perform. The butts party moved out and set up to shoot at 200 yards while the first detail moved forward to the 200 yard firing point.
Minié and Volunteer Cup

200yd
300yd
400yd
Total
J Womble
11
9
8
28
D Minshall
10
8
8
26
W Parnham
10
9
7
26
F Page
10
11
4
25
A Wyke
10
11
4
25
M Mott
10
8
5
23
M Alexandre
9
9
5
23
D Craven
13
6
4
23
K Watson
9
8
5
22
R Scott
11
4
5
20
L Jackson
6
3
6
15
D Sillitoe
9
3
3
15
D Chambers
9
5
1
15
M Hunting
9
4
0
13
A Russell
4
4
1
9
Shortly before our meeting Beryl Seller (the wife of Malcolm Seller), a good friend of the muzzle loading community, those frequenting the old Exhibition Hut at Bisley especially, passed away after a long illness. It has become a custom for the final detail of the meeting to fire a volley after the end of the competition but on this occasion we decided that a combined volley should be fired in fond memory of Beryl. The combined details formed up and loaded and on the word of command fired an impressive volley into the sand of the butts.
The butts party then took up their position in the butt in eager anticipation of the firing detail's achievements: and they were not disappointed with a top score of 13 followed by two each of 11, 10 and 9 being achieved. At 300 yards the top score was 11 followed by a couple of 9's and some shuffling of the order. At 400 yards the tension was evident as there had been some close scores between the two details.
There now followed the usual clearing up and gathering in the car park to announce the winners and give out the prizes. It is frequently the case that the winner of the Minié competition is not a member of a club affiliated to the Nottinghamshire Rifle Association and so cannot receive the Volunteer Cup; however in this case Jerry Womble had overcome not only the redoubtable Bill Parnham, custodian of the cup for so many years, but also the talented Enfield shooters from across the country with a combined score of 28 points. With the award of the prizes to the winners of the Minié and to Frank Page for 2nd in the Free Rifle and 3rd in the Patched Ball, as he could not attend the Saturday evening meal, the meeting came to a close for another year.
Acknowledgements & Thanks
Thanks are due to all who took part whether shooting or not. As usual Mike and Muriel Mott organised the prizes and indispensible food. Robin Scott allowed us to use his 4x4 to transport equipment. Carol and Martin Tebbs could rightly have claimed to have more important things to do; but came along anyway. Ann Vause was our chief medical officer, a butts officer, scorer for whole details and a range officer too when required! Mike Hunting for range officer and flag wrangling as also Bill Parnham and David Minshall, and David Craven retrieved the highest flags after a long and hot day – special thanks for that. There are doubtless people I have forgotten to mention but no slight is intended and to everyone who helped, mentioned or not, thank you.
Andrew Russell, Hon Sec, Notts RA Black Powder Section.