NEWTON SOLNEY RIFLE CLUB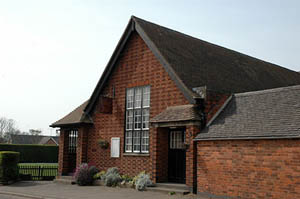 We are a small friendly club based on the village of Newton Solney , which is located adjacent to the River Trent in south Derbyshire on the B5008 between Repton and Burton-on-Trent. We are based in the Village Hall pictured on the right, which has a small 3 target prone rifle 25yd indoor range built for the Volunteers in the early 1900s. We meet weekly on Tuesday evenings from 6.30pm. The Village Hall amenities also include a flat-green bowling green, a tennis court, and a snooker table as well as a large meeting room including a stage, a smaller committee room and a kitchen.
The club arranges handicap and knockout competitions for club members during summer months and takes part in county and regional association postal league competitions in both summer and winter seasons. We also hold an annual club disc shoot.
We can by arrangement provide equipment and basic clothing to enable newcomers to target rifle shooting to try it out. Supervision, safety instruction and training is given on a one-to-one basis by our experienced shooters.
Enquiries about joining the club should be addressed to our Secretary by email through the Notts RA using the link on the left.
The above information has been provided by the Club's Secretary